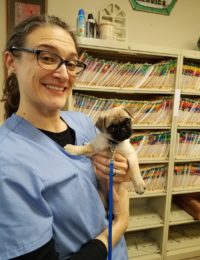 Dr. Olsen joined the team at Amazia in November 2019. Her focus is small animals, especially dogs and cats. She graduated from Michigan State University College of Veterinary Medicine. Dr. Olsen was born and raised in Michigan and remains a Michigander at heart, but loves the mountains of the Pacific Northwest.
Dr. Olsen and her husband share their house with two boys, two English Pointers (one active hunter and one "retiree") as well as two cats.
In her spare time, Dr. Olsen hangs out with her family and pets and enjoys cooking, reading, yoga and puzzles of all kinds.