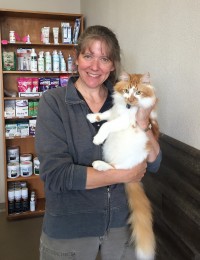 Dr. Wendy has been with Amazia Veterinary Service since April of 2002. Dr. Wendy grew up knowing she wanted to be a veterinarian, and never considered another career path. She started working in veterinary clinics and around animals as soon as she could ride her bicycle to get there.
Dr. Wendy graduated from veterinary school in 1991, from Ohio State University . She worked in Cincinatti , Ohio for a year after graduation before moving to Washington State to be closer to family that had re-located. Dr. Wendy worked in the Puget Sound area for two years before purchasing a practice in Portland . She and her husband, Norm, owned and operated that location for eight years while living in Battle Ground and commuting to Portland .
As the commute got longer and harder with the growing population of Clark County, along with the stress of raising their two young sons, Matt and Dan, Norm and Dr. Wendy made the decision to sell the Portland practice and work closer to home, in order to have more time for family.
Dr. Wendy also spends time pursuing her hobbies, including outdoor activities – Hiking and camping with her family. She is active with the Back Country Horsemen of Washington, riding and helping maintain horse access to trails. Wendy and Norm's extended family includes their cats and horses.