Welcome to AmaziaVet.com!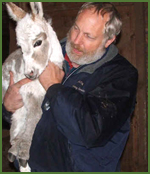 We are excited to offer this site to you so that you can learn a bit about our practice as well as gather useful information that will help you with your pet.
Our mission is to provide you with excellent service and information that will help you maintain a highly positive life for your pet.
We serve both small and large animals including:
Dogs
Cats
Horses
Goats
Pigs
Cows
Llamas
Alpacas
AND MORE!
Amazia Veterinary Service derives it's name from the Hebrew word, Amaziah, which translates as, "Jehovah is mighty", or "The Lord Strengthens".What's in a Name?
Dr. Scot, and his wife, Brenda Lubbers, (owners and founders of the practice), feel this is an apt description for a facility that specializes in healing – both for the body, and the human-animal bond that we strive to preserve.
NEW!
Acupuncture!
We're excited to announce the addition of Veterinary Acupuncture at Amazia! Dr. Megan Wickersham is certified in Veterinary Acupuncture and also owns and operates Northwest Veterinary Acupuncture. Call the office for more information and to schedule a consultation!
Don't forget our extended hours!
We are now offering longer hours several days a week!
| | | |
| --- | --- | --- |
| | Office Hours | Doctor Hours |
| Monday | 8am-6pm | 8:30am-6pm |
| Tueday | 8am-6pm | 8:30am-6pm |
| Wednsday | 8am-5pm | 9am-5pm |
| Thursday | 8am-6pm | 8:30am-6pm |
| Friday | 8am-6pm | 8:30am-6pm |
| Saturday | 8am-2pm | 8am-2pm |