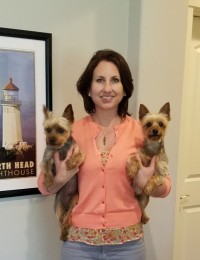 Dr. Megan has been with Amazia since 2013. She is involved with our companion pets as well as the farm animals. She received her B.S. in Animal Science from Cornell University in 2003 and graduated with her DVM from Kansas State University College of Veterinary Medicine in 2007. In 2008 she completed an internship in equine medicine and surgery at KSU.
Since 2008 Dr. Megan has worked in mixed animal practice and became certified in veterinary acupuncture in 2012 through International Veterinary Acupuncture Society. She now owns and operates Northwest Veterinary Acupuncture.
She enjoys exploring the Pacific Northwest through hiking, fly fishing, and horseback riding. Cooking and trying out new restaurants also top her list of interests. Dr. Megan and her husband Tim share their home with two silky terriers Butters and Wendy.